SHD 860 Wood Pellet Machine
Discription of

wood pellet machine
The pellets mill is applied to the material with low adhesiveness and low shaping such as the rice husk, sunflower seed husk, peanut shell and other fruit shell branch, trunk, bark, crop straws, rubber, cement ,ash and other chemical materials. The pellet mill is widely used in the feed plant, wood processing, fuel plant, fertilizer plant and chemical plant etc. It is the ideal pressing shaping equipment with low investment and high profit. SHDwood pellet mill has been successufully applied to the wood pellets production from pinus sylvestris sawdust and other wood scraps/chips/sawdust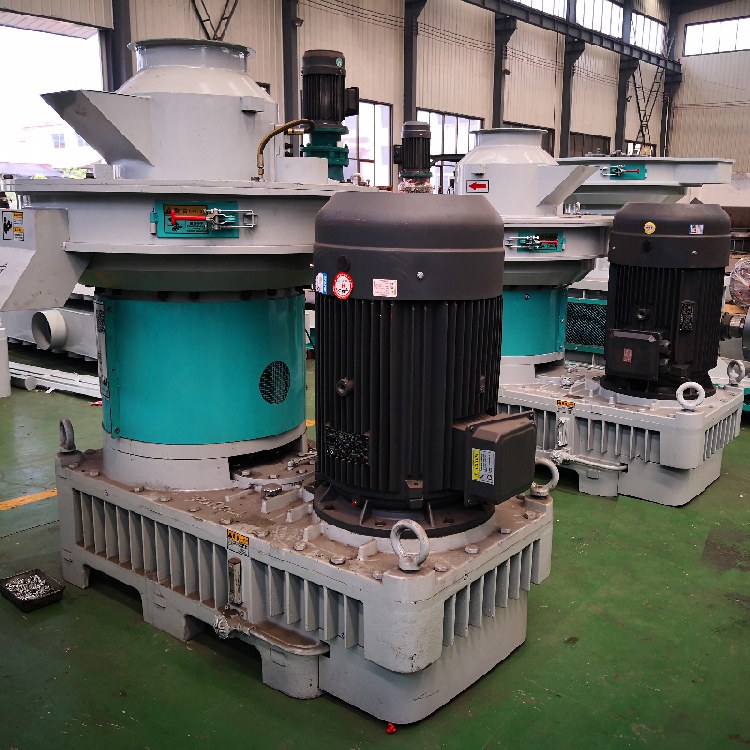 How to make wood pellets by wood pellet machine
1. Use Wood Chipper, Wood Crusher to make wood logs, chips (or other materials) smaller.
2. Use Dryer (rotary drum dryer / Air-flow dryer) or add water to the sawdust(or other materials) till its moisture content between 12-15%, which is the best moisture content for pelletizing.
3. Put the sawdust into the pellet machine gradually. Large scale pellet production need a screw feeder to make sure stable feeding of raw material.
4. After pelletized, the pellets are of high temperature that is not suitable for direct packing. So they should be cooled by pellet cooler. Then, pellets go through a vibrating sieve, where good pellets will be left, while broken ones or powder will be collected for reproduction.
5. After all the above procedures, pellets can be packed with a pellet packing machine.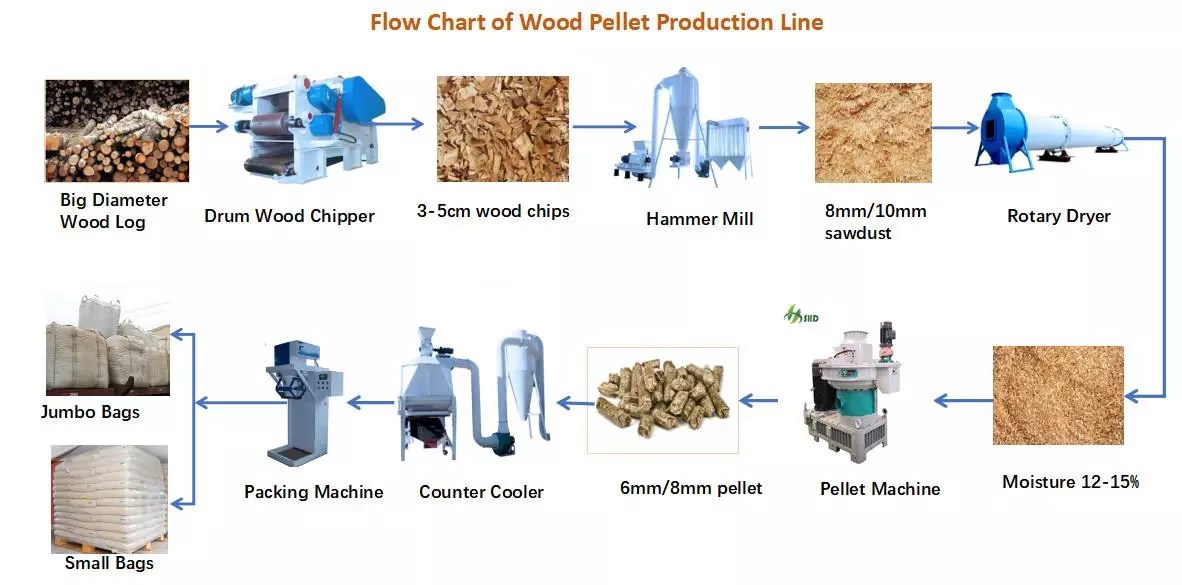 Features of the pellet machine
1.Vertical hopper:

This design can avoid the raw material be stuck in granulating room
2.Cooling system:
As the pelletizing process will generate high temperature, it will lower the service life of die and bearing.Cooling system are considering this situation and avoid it happened.
3.Double-layer dies:
This design increase the efficiency of pellet making,reduce clients cost.
4.Siemens frequency conversion motor:
Sweden famous brand.
5.SKF bearing:Sweden famous brand, High precision, high speed, low noise, long span life.
6.Unique automatic lubricating system:Which lubricate the bearing, dies and rollers ,increase the produce efficiency and reduce energy consumption.It can work continuous 20 hours without stoping.
7.Roller High alloy steel, roller wrap adopt heat treatment
8. Mold: Stainless steel
9. heavy and stable machine foundation
10. Surface adopt stoving varnish painting
Specifications of pellet mill

Packing & Delivery
FAQ
1. Q: Are you manufacturer of trading company?
A: We are manufacturer, also with marketing department and R&D center.
2. Q: I am newer to biomass industry, how to design the suitable plant?

A: Do not worry about that. We already helped many beginners. We provide optimal project design according to every customer's needs.
3. Q: Do you offer installation and training?
A: Yes. We can dispatch technicians to customers' site to help install equipment and train how to operate.
4. Q: How can you guarantee the after-sales service?
A: We have professional After-sales service center with experienced and skillful engineers. When problem of equipment occurs, our engineers will be assigned to your site to solve problems timely. Also spare parts can be provided timely due to oversea warehouses.
5. Q: Which kinds of raw material can be used for making pellets?
A:Sawdust (waste wood chips/shavings), other forest waste, agricultural straw, stalk, ,bamboo, peanut shells, rice husk, bagasse, alfalfa, palm fiber etc.
6. Q: What is the main process for making pellets?
A: Coarse Crushing Section(Splitter, Wood Chipper)—Drying Section—Crushing Section—Pelletizing Section—Cooling Section—Packing Section