8-10t/h wood fuel pellet manufacture line biomass pellet mill
Generally,a completed wood pellet production line is consists of chipping and crushing process & drying process & pelletizing process & cooling process & seperating process & packing process.Based on clients's raw material type and actual needs,those processes can be adjusted accordingly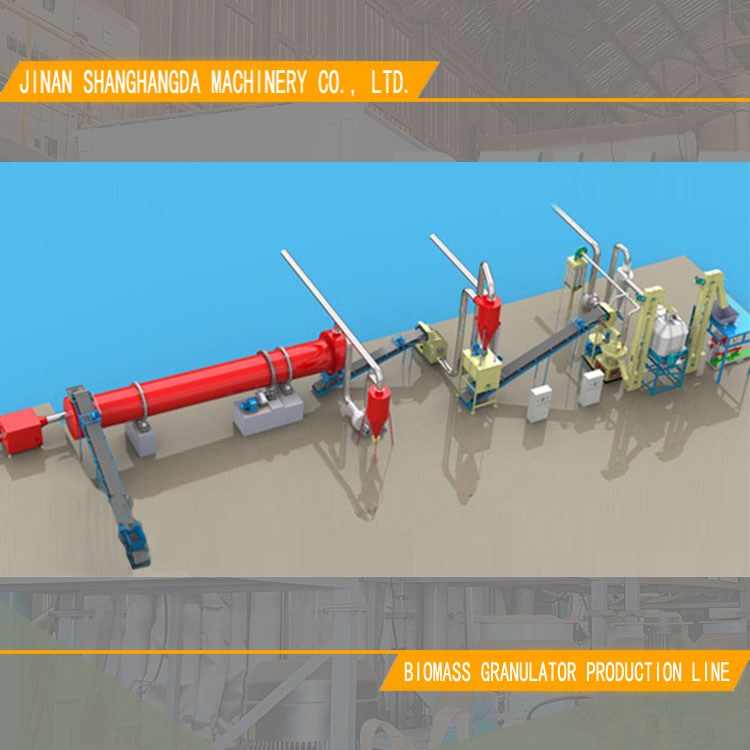 Main process in a wood pellet production plant:
Chipping and Crushing process - wood chipper and wood Hammer mill
The best material size for supporting to produce pellet is 1-5mm. Thus if your material diameter exceed 5mm, then you need crushing machine to crush and
grind them into small powder 1-5mm. Our SHD series wood chipper and hammer mill are your best choice.
After milled, the output size can reach 3~5 mm, then it is pushed to next process to get dried and pelletized.
Drying process - Rotary Dryer
The best moisture content to pelletizing is about 12~18%. Our rotary dryer is made up of burning stove and main rotary dryer which is high efficient in drying the wood and biomass material. If clients raw material moisture is higher than 20%,then they definitely need a dryer,otherwise,the sawdust can not make perfect pellets,they will stuck inside pellet machine or getting on fire during pressing.
Pelletizing process - Wood pellet mill
Wood pellet mill is the heart of the wood pellet production line, and has reliable
runningperformance. It is special designed for compacting of wood, straw,

and other biomass sources into pellets. Capacity ranges from 0.5T to 20T per hour. Our series Ring die pellet mill is best choice for large scale production.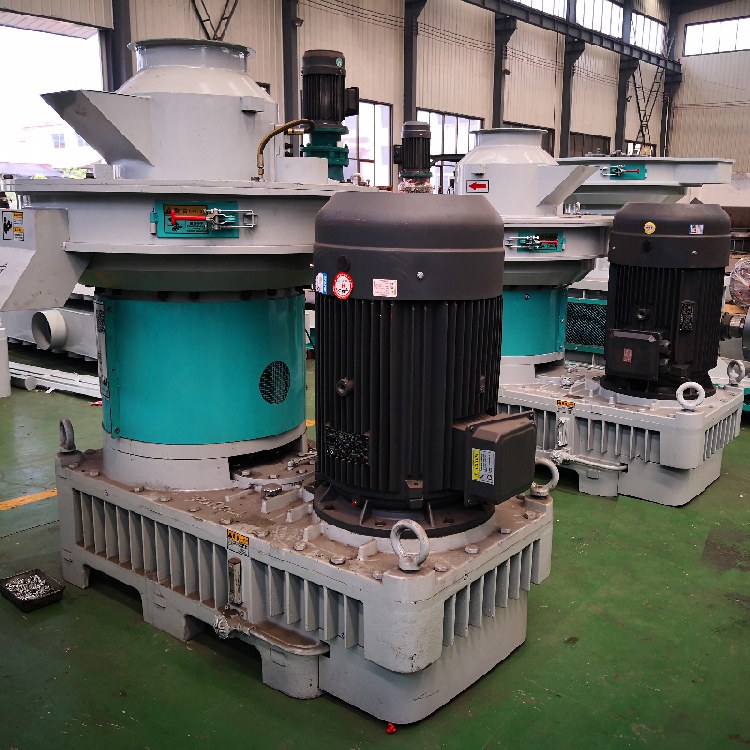 Cooling process - Counterflow cooler
Usually after pelletizing, the temperature of wood pellets is between 60~80 degrees and the moisture content is close to 15%. For storage purposes,a cooler must beused to reduce their
surface temperature and the moisture content, also help screen good and pure pellets.
Packing process - Packing machine
After cooling process, the wood pellets will not directly enter into the fuel process, avoiding the
wood pellet affected with damp, the packing process is very necessary.
The packing process is effectively handled by our Semi-Auto Packing Machine.
Customer feedback
Our Service
If you have a venue
We will send professional technical engineers to the site to carry out the pre-construction civil design, site layout and equipment layout.
If you have raw materials
Our factory has a special organic, inorganic, compound fertilizer experimental production line, free of charge to help you carry out raw material processing test results.
If you have craft
We will help you produce samples based on the ratio of raw materials you provide, scientific data such as particle strength, water content, proportion of different particle sizes, and water addition.
If you have a budget
We will provide more reasonable, more economical, more durable and more worry-free fertilizer equipment according to the budget you provide.
If you have concerns
We have signed a detailed and complete business
contract, and we will explain each payment clearly.
FAQ
Q: What brand is your motor and bearing?
We use German Siemens motors and SKF brand bearings.
Q: Which raw materials can be made into biomass pellets?
The line can handle large quantities of raw materials, forestry wastes such as logs, branches, trunks, planks, roots and other types of wood. Wooden pallets, formwork, wooden frames and other construction waste. Agricultural wastes such as straw and forage.
Q: What is the use of biomass wood pellets?
As a new type of energy, biomass pellets are mainly used for combustion to provide heat energy. It has the characteristics of high calorific value, low ash content and environmental friendliness.
Q: Can I use this line to produce multiple sizes of pellets?
Yes, our production line is multifunctional, we can customize ring dies in different sizes. In this way, you can easily adjust the size of the particles.
Q: I know very little about pellet production lines, how to choose the most suitable machine?
Just tell us your raw material, your capacity (t/h) and the size of the final pellet product, and we will choose the machine for you according to your specific situation.
Q: Our workers don't know how to operate the production line, what should I do?
Our engineers will guide the field workers how to install the machine and build the workshop. Our engineers will then commission the line on site and train your workers how to operate it.
Q: Are you a trading company or a manufacturer?
We are a manufacturer with many years of experience in the industry.
Q: In which countries do you have projects?
Products are exported to more than 109 countries including the United States, Canada, Australia, Mexico, the United Kingdom, Uzbekistan, South Africa, Afghanistan, Kenya, Tanzania, Algeria, Morocco, Sudan, Saudi Arabia, Australia, Malaysia, Indonesia, the Philippines, etc.
Q: Where is your factory? Can I visit?
Of course, we welcome customers to visit our factory. We are located in Jinan City, Shandong Province, China. And has a technology research and development center